Walking along a city street, strolling through the mall with your friends or shopping in a farmers' market, you're bound to bump shoulders and be jostled by at least a dozen or more people of varying backgrounds, ethnicities and beliefs. Guaranteed.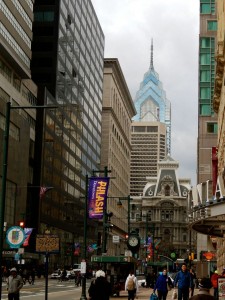 Some of us relish the opportunity to lose ourselves in a crowd, experiencing the excitement of navigating our way through a throng of people, diving for that open space when the moment is just right. Others dread having to deal with crowds and will attempt to plan their outings when the volume of shoppers, walkers and employees is significantly lower.
But we all interact with people at some point of our day, extroverts or introverts alike. Now, take a moment and think about the number of people you come in contact with throughout the day. How about in two days? Three? A week? A month? A year?
The numbers have increased, right?
You're probably thinking, ok, so what? Yes, we know that dealing with crowds is just a part of life, so what's the big deal? You just shove your way through or impatiently wait in line to check out, surfing Facebook on your smartphone as the customer in front of you pays for their items…
… but wait a minute!
How many of those people know Jesus? How many of those people have heard about the free gift of salvation that He's holding out to them? How many of those people are headed to eternal punishment because no one reached out to them with God's love?
Puts it into perspective, doesn't it?
A couple Sundays ago, Kevin King, one of the missionaries my church supports who is based in New York City with his family, shared about what God has been doing in his life and what He has laid on his heart.
Their mission in NYC is to share the gospel with students from other countries (Muslims, Buddhists, etc.) while they're studying here in America. As they come to know Christ as their personal Savior, King disciples and teaches them more about the Bible and how to lead their own studies.
That way, when they head back home, which is more likely than not to be located in the "10/40 window" (a section of unreached countries, tribes and people located in Japan through China, India, the Middle East and Northwestern Africa), these students can share what they've learned about the gospel in places where our missionaries are unable to go.
This seems to be one of the most effective ways to reach countries where Christian missionaries are not welcome. These students grew up in the villages and can easily get back into these countries, where they'll have the opportunity to take what they've learned during their time in NYC and start Bible studies and churches with the people they know.
The goal of the Kings' mission is to create relationships with the people they come into contact with on the streets, in schools, at stores, etc., spreading the love of Christ and sharing the Good News. They don't wait for opportunities to come to them.. they intentionally seek out anyone who needs to hear the gospel of Jesus Christ!
Some of us get stuck in the thinking that we're not qualified or don't know enough to be a good witness for Christ. What if they ask us questions we don't know the answer to? What if what I say ends up sounding stupid or doesn't make sense?
Yet, God still chooses to work through us to spread His Word. God can use common and ordinary people to do extraordinary things!
While talking with our congregation, King used the example of Peter and John in Acts 4:1-13. The men were arrested and brought before the Sanhedrin. When questioned by what power and in whose name they acted in, Peter started to testify:
"Then Peter, filled with the Holy Spirit, said to them, 'Rulers of the people and elders of Israel: if we this day are judged for the good deed done to a helpless man, by what means he has been made well, let it be known to you all, and to all the people of Israel, that by the name of Jesus Christ of Nazareth, whom you crucified, whom God raised from the dead, by Him this man stands here before you whole. This is the 'stone rejected by you builders, which has become the chief cornerstone.' Nor is there salvation in any other, for there is no other name under heaven given among men by which we must be saved." (vs. 8-12)
Now, you'd think the whole place would go ballistic after a claim like that, but they don't. These leaders heard what Peter said and "when they saw the boldness of Peter and John, and perceived that they were uneducated and untrained men, they marveled. And they realized that they had been with Jesus." (vs. 13)
Peter and John didn't go through seminary. They didn't spend years studying up on the Scriptures. No. They were just stating a fact and giving an eye-witness account of what they did. And it was evident through their actions and straightforward answers that they had been with Jesus.
Another example King used included the woman at the well (John 4) and how "many of the Samaritans of that city believed in Him because of the word of the woman who testified, 'He told me all that I ever did!'" (vs. 39). She just shared her story and told about what Jesus had done in her life. There wasn't any exams she had to take or memorization of Scriptures. It was just her story and the love of Christ that was evident within her.
Also the demon-possessed man in Mark 5. After Jesus cast out his demons and the man begged to go with Him, Jesus wouldn't let him. He said "Go home to your friends and tell them what great things the Lord has done for you and how He has had compassion on you.' And he departed and begain to proclaim in Decapolis all that Jesus had done for him and all marveled." (vs. 19-20) Again, this man was just sharing his story. No training. No studying. Just talking with his friends and family.
I'm not saying this is an easy thing to do. It can be really scary to go up to someone in a public place, introduce yourself, build that 5-minute relationship and steer the conversation toward religion and what they believe. Some may turn you down directly, others may be really interested and ask a lot of questions that you may not know the full answer to.
But that's ok. No need to freak out or worry that you don't know the answer. This is an opportunity for you to continue the relationship after this conversation by promising them that you'll get the answer for them at a later time. Admitting that you don't know everything reveals that you're still human, not some super godly person who is superior to them.
When Jesus says to go and make disciples of all the nations, He mostly meant to build relationships. Strike up those conversations. Sit with someone in the food court if they look like they could use a friend. Put your phone away and talk with people in line while you wait to check out.
We're created to be relational and we should use that to our advantage!
Let's work on living out loud for Jesus by building relationships and sharing what He has done for us each day, no matter how big or small 🙂







by