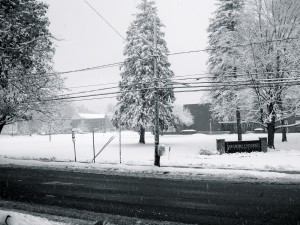 Professors retire or leave Edinboro University for a number of reasons. Filling those positions is becoming more of a challenge each year, especially with another potential budget cut looming in the near future.
"We're a teaching institution and we take great pride in that," said Dr. Jean Jones, president of the Association of Pennsylvania State College and University Faculties (APSCUF) at Edinboro.
"The budget crunch that the state has felt has led to a decline in the positions being filled here at the college," said Melissa Gibson, a professor in the Communication and Media Department.  
The Collective Bargaining Agreement (CBA) between APSCUF and the Pennsylvania State System of Higher Education (PASSHE) specifies that 25 percent of the faculty at Edinboro or any of the PASSHE schools should be temporary professors.
With that in mind, the administration is focused on hiring those professors before they even consider opening more positions for tenured faculty, said David Martin, the membership committee chair for APSCUF at Edinboro.
A professor applying for tenure, according to the CBA, needs to go through five years of evaluation before they can apply and then once they have obtained that position, they are only evaluated every five years after that.
Tenure also allows a faculty member to hold their position without the fear of losing it, while a temporary faculty member is defined by the CBA as one who's contract is up for renewal or non-renewal at the end of each year.
With the temporary faculty members, they're hoping that they'll get to come back the next year, Jones explained.
"If you commit to having a tenured faculty member, you can expect that they are going to be here for a while," said Jones. "[On the other hand], temporaries are hired for one year. They know that when they come in and there is no guarantee that they're going to be needed for the next year."
The number of full time temporary faculty, according to the APSCUF office, has remained consistent throughout the past three years, said Martin. In 2009, we had 41 full-time temporaries, then it went up to 56 in 2010, then back down to 53 in 2011, and we are currently at 50 full-time temporary faculty members, he said.
Many of the temporary faculty members are fully qualified for a tenured position if an opportunity presented itself and they take the job because there isn't anything else available, Jones explained.
Temporary faculty members are here to teach and aren't expected to advise or get involved on campus, but they are working to provide excellent classes for the students, according to Jones.
"Our temporaries are great," said Jones. "They go above and beyond what their requirements are and they contribute to the campus. They are amazing given the situation."
Yet, with the budget cuts that we've had, the university is finding it harder to hire more professors, said Gibson, so the departments are forced to place more students in each class in order to provide for the need on campus.
This will lower the need to hire more temporary faculty, said Martin, but that means it's going to affect the one-on-one contact that professors have with their students in the classroom.
Gibson agreed by saying that the fewer tenured professors you have, the harder it is for the students to form bonds with them, if they are going to be leaving the next year.
"Provost Ginnetti has made a commitment to increasing the number of faculty. He thinks it is very important to have more permanent faculty and he's working to make that happen," said Jones. "But again, when we've got the governor pulling the rug out from under us, it makes it much more difficult." 
– Anna Tielmann (Taken from The Spectator, Vol. 3, Issue 18) 







by