"He is jealous for me, loves like a hurricane, I am a tree, bending beneath the weigh of His wind and mercy.
When all of a sudden, I am unaware of this afflictions eclipsed by glory and I realize just how beautiful
You are and how great Your affections are for me." 
"How He Loves Us" is one of my absolute favorite worship songs and it's recently become my life goal… to realize just how much God loves me! Have you ever taken a moment to just meditate on how vast and how deep that love must be?
Let me tell you, it's something worth contemplating 🙂
Ever since marriage, God has been opening my eyes and heart to the meaning of pursuing a love that never fails and what is actually possible when we live our lives in complete dependence on Him.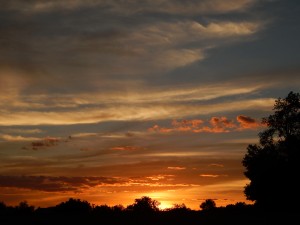 I recently joined the worship team at my church as a second female vocalist. Over the last few months, we have done two outreach events at different parks (one in Easton, PA, and the other in Quakertown, PA) and He has shown up every time. We just did the outreach in Quakertown this evening and I was told before we started that God was going to speak to me during our worship time. Of course that got me all excited and, sure enough, about halfway through singing I hear this voice in my head that said, "I love you, My child."
Woah.
I grinned and kept right on singing, just losing myself in the worship and not worrying about the people who might be watching (which is a new thing for me, because a few months back, I would be super nervous about singing in front of people).
Then I heard this: "Just bask in My presence. Pursue me and I will do things that are beyond your wildest dreams."
Imagine the tears of joy that welled up when the next song was "How He Loves Us:"
"And we are His portion and He is our prize, drawn to redemption by the grace in His eyes,
if His grace is an ocean, we're all sinking. And heaven meets earth like a sloppy wet kiss
and my heart turns violently inside of my chest."
When God speaks, it's not always a clear voice. He's spoken to me in so many different ways – creation, His Word, a thought, books, photos, people – and this was just a crystal clear thought that came outta nowhere and stuck in my mind. I've been asking God to reveal Himself to me in new ways each day and He has! In Matthew 7:7-8 it says:
"Ask and it will be given to you; seek and you will find; knock and it will be opened to you.
For everyone who asks receives and him who seeks finds and to him who knocks it will be opened."
It's that simple. All we have to do is ask.
God loves us. We are His special, chosen people who He wants to bless (1 Peter 2:9). During the short time that I've been on the worship team, He has opened my eyes to the true meaning of worship and how freeing it can be. It doesn't have to be a routine, gotta-get-it right-every-time type of thing. Yes, you have to be good stewards of your talents and practice, but don't get so caught up on the technicalities that you lose sight of the reason you're up there.
As the author of Hebrews said in chapter 13:
"Therefore, by Him, let us continuously offer the sacrifice of praise to God,
that is, the fruit of your lips, giving thanks to His name." (vs. 15)
Make it a daily practice to bask in His presence and in His Word. Pursue your Heavenly Father and He will come running to meet you! Once you realize or remember the joy and wonder of being in constant praise and adoration of our Savior, you'll never want to stop 🙂







by