What would you do if you caught a glimpse of the throne room of God? Dance for joy? Gawk in awe? Fall flat on your face out of respect and fear? Sadly, these aren't the responses of many Christians who participate in worship. Whether it's singing in church on Sunday morning or gathered with a group of believers on a week night, worship is supposed to bring you into the presence of the Most High God. Yet most times our "worship" can seem like just another song that happens to be on the agenda. If our focus and our heart aren't in the right place, what was meant to be a special time in the throne room of our Heavenly Father can easily turn into a less-than-meaningful experience.
Worship requires a certain level of intentionality, passion and focus. So, how do you achieve this? Spend time in His Word! No, I don't mean just anywhere in the Scriptures. Seek out passages that talk directly about His glory. For example, this past week, my small group read through Ezekiel 1, where he describes the vision he had of the glory of God:
"… a whirlwind… a great cloud with raging fire engulfing itself;
and brightness was all around it and radiating out of its midst like the color of amber."
(1:4)
"… within it came the likeness of four creatures…
Each one had four faces and each one had four wings…
each had the face of a man; each of the four had the face of a lion on the right side,
each of the four had the face of an ox on the left side, and each of the four had a face of an eagle."
(1:5-6, 10)
"The likeness of the firmament above the heads of the living creatures
was the color of an awesome crystal,
stretched out over their heads… and above the firmament over their heads
was the likeness of a throne,
in appearance like a sapphire stone; on the likeness of the throne was a likeness
with the appearance of a man high above it."
(1:22, 26)
"…and from the appearance of His waist and downward I saw, as it were,
the appearance of fire with brightness all around.
Like the appearance of a rainbow in a cloud on a rainy day,
so was the appearance of the brightness all around it.
This was the appearance of the likeness of the glory of God."
(1:27-28)
Just take a moment to picture all of that. Read through those portions again if you have to. It's pretty amazing, right?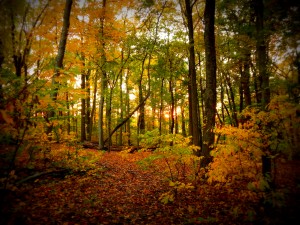 Once you obtain a revelation of how awesome our God is, the intentionality, passion and focus of worship should happen naturally. I find that reading and picturing passages like the one in Ezekiel help me to focus on God's glory during a time of worship. I mean, it's super difficult to be nonchalant in worship while picturing something as wonderful as the throne room and majesty of God.
Worship was meant to be a tangible experience for every believer. It shouldn't become a routine. It shouldn't be obligatory. Worship should be a time of expressing your love and awe of who God is. It's an intimate time with your Creator who loved you enough to give up His own Son in order to secure your redemption. Don't waste a moment of it.
"To Him who loved us and washed us from our sins in His own blood,
and has made us kings and priests to His God and Father,
to Him be glory and dominion forever and ever. Amen."
(Rev. 1:6)







by