Freelance writer. Freelance photographer.
Sounds so professional, right?
But how does one go about becoming either one of those?
I did a little poking around the Internet this past week and came across a website called Innovative Ink, created by Elna, another beginner freelance writer, and found a series she wrote called "Freelance Writing Jobs for Newbies." There was a number of valuable details about honing your skills as a writer, getting your name out there, landing a client, determining your rates and writing a contract.
Here are some of the points that caught my attention:
1. Portfolio
Many journalism students are strongly encouraged to keep everything they write throughout their college career, no matter how big or small it may be. Why? Because it can be added to their portfolio. Everything you write is a sample of what you can do.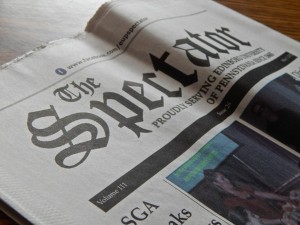 As a college student, I was a reporter for the school paper and kept PDFs of every piece I wrote. Which was great, but I graduated from college three years ago and haven't really written an article since then. I had dealt with plenty of online briefs and press releases during my employment at The Morning Call in Allentown, but I have nothing to show for it except for my knowledge and experience.
So how do you keep building your portfolio?
2. Blogging
Why blog? Because it's a way to determine where you fit in the interwebs. What is your niche? What are you passionate about? What inspires you to write? It took me a while to figure that one out, but soon I would hear a quote or a song or snap a picture of a breathtaking view and suddenly I was inspired to write a 6 paragraph or longer blog post in under an hour. Anything you write can be used in your portfolio, whether it be professional writing or for fun. So, if you're not in school or don't write something new every day for work, do it on your down time in the evenings or on the weekends at home.
Which brings me to my next point…
3. Write Daily
This is very important. If writers make it a point to write something every day – a paragraph, their rambling thoughts, a letter – it's almost guaranteed that their writing will improve and they'll be able to figure out what their niche is as a writer. Do you have an interest? Write about it. Do you like to cook or bake? Write about it. How about that crazy awesome book series you just finished? Write about it! (just don't give away the ending)
4. Guest blogging
This is similar to the second point, but the difference is that it's for another person, not for yourself. I've always wondered how to get into writing on another blog. When I started researching how to become a freelance writer, many sites suggested being a guest blogger. Ok, but how do I go about finding blogs that I can write for? That's where Innovative Ink helped. She listed Google searches to try and a way to sign up for opportunities to guest blog for money (yes, apparently that is a thing at beafreelanceblogger.com). It's just a matter of getting your name out there and letting the cyber world know what you're capable of before you fly solo and land your own clients.
5. Social Media
This has already been a major part of getting the word out about my blog. I've been working on my blog since 2011 and it contains a wide variety of writing samples – poetry, devotionals, short story, news articles, features and more. By the time I moved my blog over to this website, I was nearly at 7000 views! That's all from sharing my latests posts on my Facebook, LinkedIn and Google profiles. What I learned from blogging for fun is that social media has to be a big factor in getting the word out about my freelance career, my clients and what I can offer to the world as a writer and photographer.
So there you have it. Be creative! Write! Build that portfolio and have fun with it 🙂
I would highly recommend checking out the "Freelance Writing Jobs for Newbies" series, as it has helped me to form a game plan for starting my career as a freelance writer.
Thanks for reading!







by