It's taken me a little longer to get to this point that I expected, but I finally started working on getting my "Home," "Hire Me," "Blog" and "Contact" pages set up for my WordPress site! Yes, there is only the basic information there, but it's a start and I do plan to embellish it a little more over time.
As I was looking at my site, I realized that I didn't want my blog posts to be the first thing my visitors saw. I knew that one of the ways to catch a client's eye is providing them with an idea of what you can offer, but while my posts can be helpful and encouraging at times, they don't always display my true potential as a freelancer.
What I needed was a "Home" page, but I had no idea how to create one, much less what to feature on it.
So, I started researching and this is what I learned:
Static Home Page
Go to your Dashboard and select Pages. Click "Add New" and type "Home" in the title section of the page. If your template has a default home page template, you'll find that drop-down menu on the right, under "Page Attributes" (not all templates have this feature). Scroll to the bottom of the page and uncheck "Allow comments" and "Allow trackbacks." Click "Publish" (you can add information to it now or later).
Blog page
Go to Pages and click "Add New." Type "Blog" in the title section. Scroll down and uncheck "Allow comments" and "Allow trackbacks." Click "Publish."
Set up
Go to Settings and select "Reading." Under Front Page Display, select "a static page." You'll see two drop-down menus: Front Page and Posts Page. Select "Home" for Front Page and "Blog" for Posts Page. Save your changes.
Go to Appearance and select "Menu." Your two new pages should appear on the left side of the page. Click the empty boxes next to them and click "Add to Menu." You'll see them appear on the right side of your screen. Save your work.
What to write?
So, now what? You've got your Home and Blog pages all set up, but what should you feature on your home page?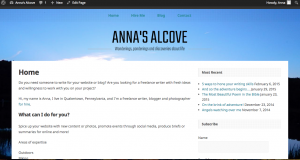 Remember when you wrote an essay or short story for class and you had to come up with a hook that caught your reader's attention? Think about the audience that you're trying to reach, what they may need and how you can catch their attention. Why should they keep looking at your home page? What do they need that you have?
Be sure to list some of your areas of expertise, maybe feature some sample photos if you're into photography and sell yourself (promote your new blog page too)! Don't be shy about what you can offer to the business world, but don't make it too wordy either. Too many words can potentially scare people away.
Want more pages?
It's easy! To create more pages, such as "Contact" or "Hire Me," go to Pages and "Add New" and fill in the title with whatever you want.
Once those are created and published, go to Appearance and select "Menu." Be sure to click the empty boxes by your newly created pages, select "Add to Menu" and they will appear in your menu list on the right. You can rearrange the menus by clicking and dragging. Save your changes.
And that's it!
If you want more information, I suggest you check out wpbeginner.com, as they have several great resource videos on how to get things set up on your website.







by