Whether you're new to Christianity or believed in Christ at a young age, you're bound to hear that fact more than once.
But what does it mean?
Granted, it will be different for everyone. I've struggled with this verse off and on throughout my walk with Christ and still have yet to come to a full conclusion of what it means for me.
How can we, as humans, have the mind capacity of the Creator? There's so much about God that we don't completely understand yet, so how can we understand or comprehend the mysteries and knowledge of Him?
In 2 Peter 1:2-4, it says "Grace and peace be multiplied to you in the knowledge of God and of Jesus our Lord, as His divine power has given us all things that pertain to life and godliness, through the knowledge of Him who called us by glory and virtue, by which have been given to us exceedingly great and precious promises, that through these you may be partakers of the divine nature…"
The first part of that verse is easy to grasp. Peter is blessing the people receiving the letter in the knowledge of God and of Jesus (which is kind of like blessing them in the name of God). But then it goes on to say that through the knowledge of Him, we may be partakers of the divine nature.
What all does that encompass? When you think about your "nature," what comes to mind?
Your soul, thoughts, feelings, personality, creativity… the very essence that makes you you, right?
Take a moment and realize what that means for us as believers.
Mind blowing, I know… and it gets better:
"Therefore, having been justified by faith, we have peace with God through our Lord Jesus Christ, through whom we also have access by faith into this grace in which we stand, and rejoice in hope of the glory of God." (Romans 5:1)
It is by faith, and faith alone, that we have a part in God's nature. There's nothing that we can do to earn it. We were made in His image (Genesis 1:26-27), so He pretty much imprinted Himself on our souls and being "partakers of the divine nature" and "having the mind of Christ" is a part of following Jesus.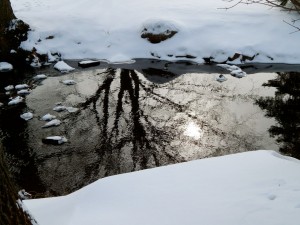 Getting access to all that knowledge doesn't happen automatically when we believe, but we're given a key. Once we realize that we have the key to the mind and knowledge of God and claim it for ourselves (fully believe it), that's when things start happening:
Colossians 2:2-3 gives us a glimpse of what we could experience once we start seeking to know to mind of God and take ownership of our right to the divine nature: "… that their hearts may be encouraged, being knit together in love, and attaining to all riches of the full assurance of understanding, to the knowledge of the mystery of God, both of the Father and of Christ, in whom are hidden all the treasures of wisdom and knowledge."
Wow…
I mean, as believers, this passage says that we have the right to seek after the mysteries and knowledge of God! Too many of us don't take advantage of it and miss an entire aspect of our faith. God wants to reveal more of Himself to us, His beloved creation, and He's waiting for His followers to actively start seeking after the divine nature that is rightfully ours.
Like I said, I'm still trying to wrap my mind around this and figure out what it means for me. But I'm working on talking with God more frequently and asking Him direct questions instead of wondering quietly to myself. Diving into His Word and discovering new meanings behind well-known passages has been one of the immediate benefits.
The Holy Spirit will be faithful and will open your mind to more of who God is. Strive toward Him. Claim your divine inheritance. Don't get stuck in the lie that God won't reveal things to us because we're mere human beings.
Remember:
We have the mind of Christ!







by